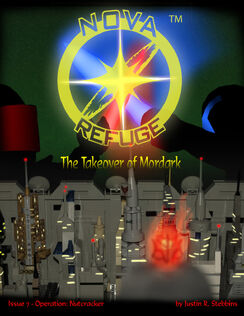 Nova Refuge: The Takeover of Mordark is a series of webcomics written by Justin R. R. Stebbins. Justin illustrated the comics too, by the use of photographs of customized LEGO® brand construction toys and minifigures, as well as the occasional model, toy or backdrop piece from other brands. Visual effects and digital composition was acomplished through Adobe Photoshop. It began in 2005, then underwent a long haitus from 2006 to 2011 and was finished in 2016.
It can be read on the webcomics page at the Saber-Scorpions Lair website (see external link further below.
The independent city-state of Mordark on the planet Terra Nova is a veritable fortress city. Though its poor live in vast slums that cover the majority of the peninsula, the rich live in the thriving City Core, surrounded by its enormous walls and domed by one of the most powerful energy shields ever constructed. Now, after the events of Warrior Born, with the Ultimate War well underway, it is a major point of contention between Xarkon and Victory and their allies. As these two powers send diplomatic envoys to gain the allegience of Mordark's Lord Zegaldorph, they also secretly begin operations to take control in other ways... by any means necessary.
Issue 1: Over the Border Edit
A group of thieves and mercenaries break into Riddian Harrick's R&D warehouse in the City Core and steal a super Gungnir cannon that could break the shield that protects Mordark.[1]
Issue 2: The Takeover Begins Edit
As the Xarkonians and Victorians hold council meetings to decide what to do with Mordark, Grimm's Army tries to convince Mordark's two major gangs to unite, only to have the meeting disrupted by Mordark police forces.[2]
Issue 3: Rotten to the Core Edit
Lord Zegaldorph meets with the richest and most powerful men in the Modark City Core as the gangs try to increase their power to fight against them.[3]
Issue 4: The Great Hunt Edit
The two major gangs of the Mordark slum meets head-on in the sewers of the city.[4]
Issue 5: Stabbed in the Back Edit
The Victorians infiltrate Mordark as Grimm's Army gets a group of assassins to kill Zegaldorph.[5]
Issue 6: The War Comes to Mordark Edit
Lord Zegaldorph meets with both the Victorians and the Xarkonians to decide whose side to take… His decision will have dire consequences.[6]
Issue 7: Operation Nutcracker Edit
Zegaldorph has thrown his lot in with Victory, and Xarkon's delegation lies rotting in a prison cell. Agents of Grimm's Army and his gangster allies currently stationed within the Core move to free them, so that they can begin Operation Nutcracker and launch an all-out assault on the shield generators of the City Core.[7]
Issue 8: The Battle for Mordark Edit
The final battle for control of Mordark ensues. Who will triumph?![8]
References
Edit
External links
Edit