Welcome to the Nova Refuge Wiki!
An online encyclopedia dedicated to the science fiction universe of Nova Refuge, created by author Justin R. R. Stebbins, that anyone can edit!
Three hundred years ago, planet Earth was destroyed by the unexpected supernova of her own life-giving sun. What was left of humanity fled to the recently-discovered world called Terra Nova, in the foreign galaxy of Nova Refuge. On this new world, humanity was given a chance to learn from the mistakes of its past and start anew, to build a better future.
Instead, we made war.
Welcome to Nova Refuge.
Nova Refuge is a sci-fi universe created by Justin R. R. Stebbins, and is the setting of his novel Warrior Born. Start exploring by checking out some of the categories below!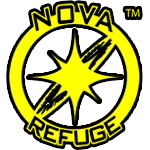 Latest activity
Community content is available under
CC-BY-SA
unless otherwise noted.